UV Free / Mystic Tanning - Now Available In ALL Locations
Mystic Tan
UV Free Tanning Booth
Available in Laurel
Mystic Tan
My Mist UV Free Tanning Booth
Available in Reisterstown
Mystic Tan
HD UV Free Tanning Booth
Available in Columbia
Get ready for the Authentic Mystic Tan experience. You benefit from a consistently smooth, natural-looking tan that leaves your skin nourished and beautifully bronzed. The secret to providing the perfect tan? The Mystic Tan Myst is specially formulated to work with the exclusive MagneTan™ Technology, ensuring a consistent tan every time – with no streaks.
Our exclusive line of Mystic Tan booths and products provide you with the Authentic Mystic Tan experience that meets your individual needs.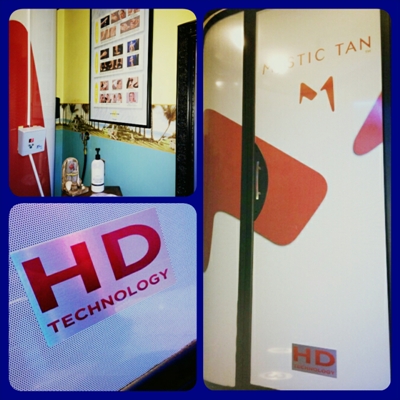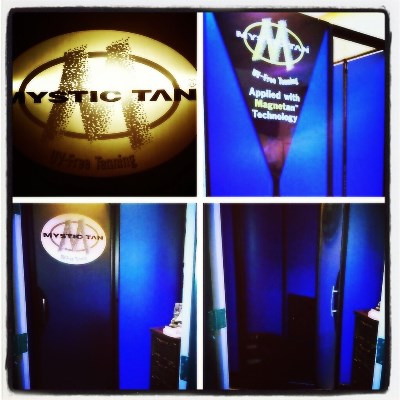 Customize your Mystic experience with the following options:
Colors: Light & Medium (included in package price) / Dark- $5 Upcharge
Scents: $2 each
*Coconut Lime *Tropical Paradise *Sport * Warm Vanilla
Enhancers: $5 each
*Glow: produces a hint of color for a natural, healthy looking "glow"
*Revitalize: used as a pre-sunless treatment enhancer or as a stand alone skin treatment.
Contains anti-aging vitamins & moisturizers to revitalize your skin and keep your skin looking healthy & fresh!
Bronzer Additives: $5 each
*Single Bronzer: up to 3 shades darker than your natural skin tone
*Triple Bronzer: up to 5 shades darker than your natural skin tone
*Ask us about our spray tan wedding package special today!
Preparing for your Mystic Experience
Pre-tan Prep: Clean and exfoliate skin. It is best to shave the day before or the day of getting your Mystic tan. Refrain from using moisturizers, perfumes, oils, lotions or deodorants that may create a barrier between your skin and the tanning solution
During your session: Remove all clothing, jewelry & make-up. Apply blending cream to hands & feet. Follow the step by step instructions given. (*your tan will continue to develop over the next 24 hours)
Post-tan Care: Avoid showering or getting wet/sweaty for 4-8 hours after your session.
We also carry and recommend a variety of products created to enhance and extend the life of your Mystic tan; any of our well trained staff can help you choose the product that is right for YOU!